Upgrade
We are pleased to receive enquiries regarding upgrading existing installations. We can undertake remedial work to aged, poorly maintained or poorly installed gate systems. Old gates may require additional safety features to comply with current working practices and legislation. We can inspect, report and advise upon your current installation with appropriate suggestions as to any work that ought to be considered.
Your gates may require an upgrade caused by change of use, ownership or simply the desire to take advantage of new technology. The HomeLink system that is available in many modern cars can be integrated with most gate systems, this will enable you to operate your gates from the push button system built into the car.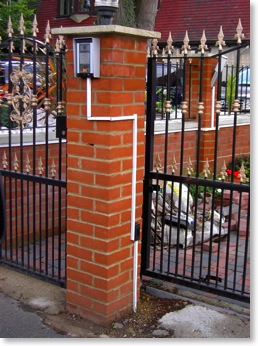 Here, we show two examples of installation
that we have been called upon to remedy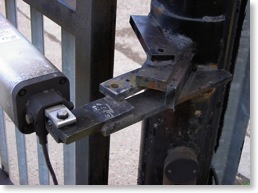 Safety Matters
Most automatic gate systems should contain at least two additional methods of safety cover, with its users made aware of the correct method of operation.
It is advisable to educate young children, but where possible keep them away from the area surrounding the entrance.
All gates systems should an anti-crush device and should be backed up with electronic protection such as photo beams.
Domestic systems are usually installed with photo-beam safety cover, whereas multi-user systems often include induction loops, positioned each side of the entrance.